The 10 best customer management or CRM software
What exactly is a CRM software, how it benefits us to have one, how many types there are and which are the ten most interesting for freelancers and also for SMEs.
Salesforce
Salesforce is the best known CRM software on the market. As in this case we are talking about pure and simple client management software, without other billing, accounting, etc., functionalities, it is especially sophisticated in this regard.
Plans
Its four plans (Essential, Professional, Enterprise, Unlimited) vary between 25 and 300 euros per user per month.
Advantages
It is completely customizable and adapts to the needs of each company.
It is cloud-based, which (as we already know) is great for being able to access all the data even if we are far from our computer.
His learning is fast.
Disadvantages
Its price. We are talking about the most basic plan costing 25 euros per user per month, which amounts to 100 per month if we have a company with four employees. The Enterprise plan, the most demanded, goes up to 150 euros per user and month. These prices also operate with an annual payment, which means that if we want to pay month by month, it increases even more. For many SMEs it may be unaffordable.
Even the Unlimited version is not unlimited. It has a maximum of 1000 emails per day, something that can sometimes be exceeded, resulting in incomplete tracking of information in them.
Its multiple functionalities can be excessive in many cases: sometimes, a simpler CRM software largely meets all the needs we demand from it, so we may be paying more.
HubSpot
HubSpot is a so-called operational CRM software, more focused on closing sales and generating business opportunities, and less on analysis for decision making. It is compatible with numerous tools and platforms, and has a free version.
Plans
In addition to the free version, with basic functionalities, the three plans that HubSpot has are Starter (41 euros/month), Pro (740) and Enterprise (3300). The first two, with an annual commitment.
Advantages
A great integration capacity for all inbound marketing tools.
Compatible with other tools and platforms.
It has a free version.
Disadvantages
Again, the price. The premium version costs the company almost 40 euros per year.
The free version has low operability and some of its services are not very functional.
The Starter version has a new payment digitalization tool that, for the moment, is only operational for transactions made in an account in the United States. That is, if your bank account is in Spain, you cannot take advantage of this functionality.
It is not very flexible when we need to carry out more complex sales processes.
Zoho
Zoho customer management software has some peculiarities, such as the possibility of redesigning its interface thanks to a tool called Canvas. One of its strong points is real-time interaction and notifications.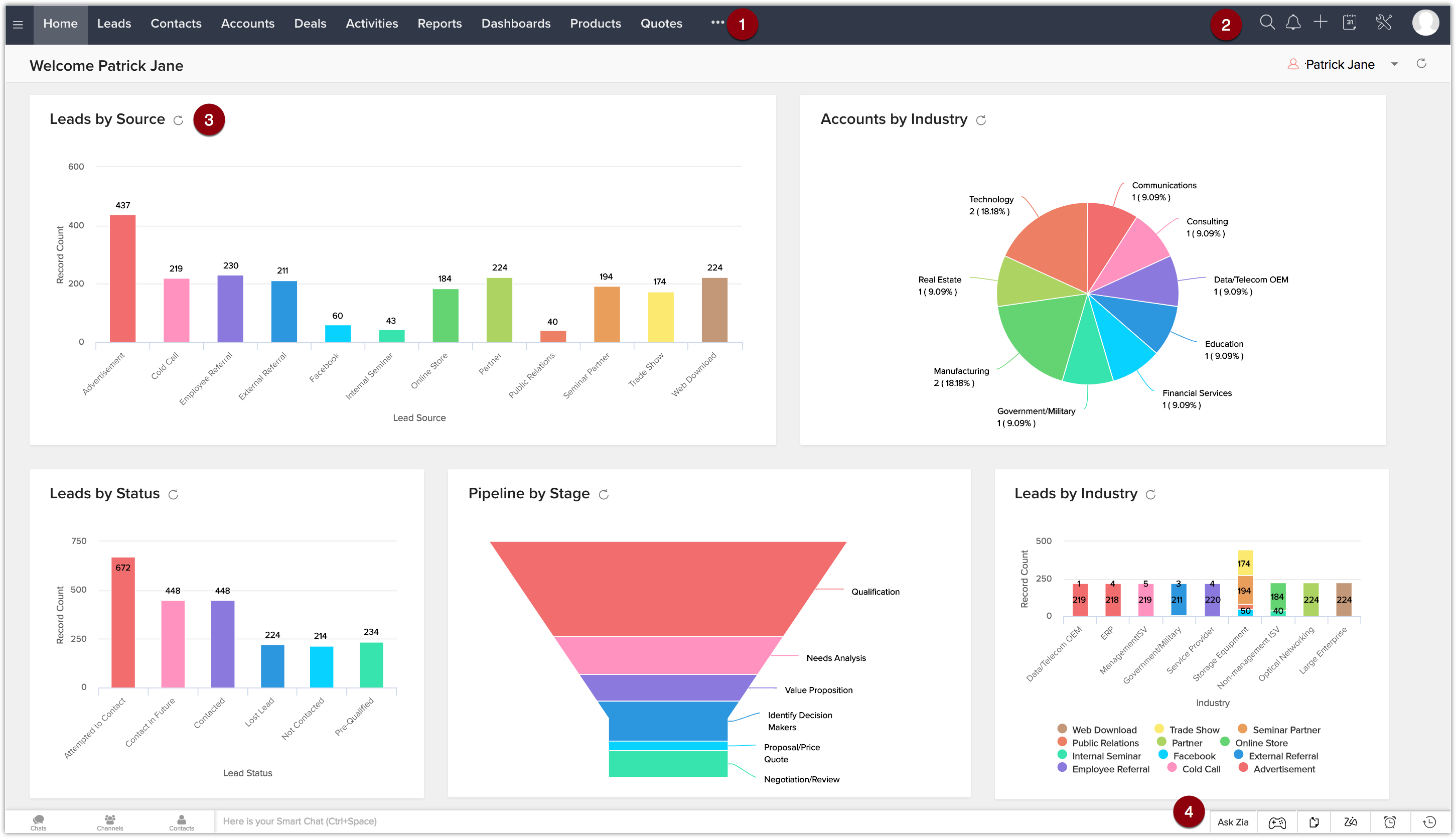 Plans
It has four plans: Standard (14 euros per user and month), Professional (23), Business (40) and Ultimate (52). All of them have a 14-day free trial (Ultimate, out of 30).
Advantages
Its great strong point is the functionality of notifications in real time.
Analyze data from multiple sources: social networks, phone calls, website…
It is very well adapted for mobile phones.
Disadvantages
The agility of the support service, according to users, can be improved.
The service provided is not the best in Spanish, which can be an obstacle if you do not speak English well.
Pipedrive
Pipedrive is mainly aimed at converting leads or potential customers into customers, so its strong point is inbound marketing tools. That is, it "warns" you when to make a proposal to a client.
Plans
It has four: Basic, Advanced, Professional and Corporate. Prices: 14,90, 24,90, 49,90 and 99 euros per user per month, with an annual plan.
Advantages
It has an AI-guided sales assistant, ideal for those who have little experience with technologies.
Very advanced integration with WordPress, which incorporates your clients into the Pipedrive portfolio by simply installing a plugin.
Simple and intuitive interface .
Disadvantages
To the prices we must add those of the numerous functionalities that are outside the payment plans and that increase the monthly cost.
If we send an email to a client, we can see if they have opened it, but only the person who sent it, not the rest of the team. This greatly limits the workflow.
The essential plan lacks features that any small business requires: integration with Google Drive, email open tracking, etc.
Bitrix24
Bitrix24 software is more than a CRM software, although it incorporates one with its other tools. It has a free version for a maximum of 12 users, which incorporates many of the functionalities included in its paid plans.
Plans
In addition to the Free version, completely free, it has three payment plans: Basic, Standard and Professional ($49, $99 and $199 per month). The free version has a storage space of 5 GB.
Advantages
Compatible with mobile phones.
Its interface is similar to that of Facebook, which can make this software intuitive and manageable.
It is an ERP that incorporates a CRM software, with all the added functions that this implies.
Disadvantages
If it is stopped for a long period of time (around 40 days), the data and the domain are lost, with the consequent loss of information.
If you consider having a powerful CRM, Bitrix24 may not be your option: it lacks many functionalities.
It has many modules that can be overwhelming for small businesses: this software is more aimed at large companies.
It is not an optimal tool for freelancers.
Agile CRM software
Agile is a simple CRM in its most basic functionalities, based on the cloud and very focused on the flow of communication within the team. This encourages higher performance; Of course, it has all the necessary tools to correctly track sales, sales and customer service opportunities.
Plans
Agile CRM software includes a free version and three paid plans: Beginner ($8.99/month), Regular ($29.99), and Enterprise ($47.99). These are all prices per user, not for enterprise-wide software, and are subject to a two-year tenure (otherwise, prices increase, whether price/year or price/month).
Advantages
It's incredibly easy to import contacts.
It integrates perfectly with various social applications, video calls, etc.
It has a gamification option, which can be stimulating for your company's employees.
Disadvantages
Agile CRM is very focused on the English market: tutorials and some features appear in this language (even its price is in dollars). If English is not your thing, you should consider another CRM.
Due, perhaps, to this focus on the English-speaking market, customer service is ineffective.
It is not flexible in terms of customization.
There is a lack of tutorials for its more advanced functions.
It is not intuitive, and some automations are not well understood.
Suite
Suite CRM software is designed for those who use technology: it has open source software, so potential system failures can be corrected and modified freely. This allows it to constantly reinvent itself and innovate.
Plans
It has a free version to which three payment plans are added: Starter, Business and Premium. The Starter version costs £95 a month; Business, 332.50; the Premium, 475. This is a monthly payment for the entire team, but each version has a limit of users.
Advantages
It has numerous modules and each user chooses which ones they prefer to implement.
It has a free version.
Its design is simple.
Disadvantages
The support service is ineffective.
Doubts are not well resolved (partly because it is open source software).
The free version does not have a mobile app, so we cannot solve problems or register incidents if we do not have our computer with us.
The free version is not in the cloud, so you have to constantly resort to backup copies because it is not in the cloud.
Freshsales
Freshsales is a CRM software designed for those who need to make appointments or close sales while traveling: the strong point is that its best features are focused on its mobile application. The integration of mail services or the use of artificial intelligence are among its greatest strengths.
Plans
Like several CRMs, this business management software includes a free version and three other paid versions: Growth, Pro and Enterprise (for 15, 39 and 69 euros per user and month, respectively, as long as an annual payment is made) .
Advantages
It has a window to record notes right after calling a client, something very useful for those who go from one place to another and do not want to forget any details.
The mobile app has numerous integrations and database access.
Disadvantages
While the mobile app is Freshsales' strong point, it is not intuitive.
If we want to track the performance of a campaign, the mobile version does not allow us to do so either.
Notion
Although Notion is not a CRM software, it is a project management tool that some users with computer skills manage to turn into something similar to a CRM. In Notion you can store your users' databases, incorporate calendars, work with tables and templates that are offered to you, and so on.
Plans
It has one free plus the Personal Pro, Team and Company plans. The first costs 4 dollars per month per user, the second costs 8 and the third has a personalized price according to the needs of the business.
Advantages
Its price, really competitive.
It is perfect for project management, which is the purpose for which it was created.
The combination of personal and professional data, which can be perfectly separated.
Disadvantages
Its learning curve is very long: everything is based on trial and error.
You cannot store the data on the hard drive.
It is a proprietary application, which means that we cannot migrate what is in it to anywhere else and that, if it disappears, everything we store disappears with it.
Holded
To start, is Holded a CRM software? Not quite. Holded is much more than that: it is a software that integrates an ERP and a CRM software. As we mentioned at the beginning, ERP (Enterprise Resource Planning: in Spanish, business resource planning system) is the program most in demand by SMEs and the self-employed.
We are, therefore, facing a much more complete software, which includes the functionalities of a CRM software within a set of integrated applications that help us automate an infinite number of tasks: billing, accounting, purchasing, logistics, marketing, customer service… Holded contains a CRM software: this would be a much more accurate definition.
Plans
There are several plans within Holded. To start, all of them have a 14-day totally free trial , which does not include any commitment to stay. Self-employed people have a free basic plan to start, and the Plus service costs €7.50/month during the first quarter (afterwards it costs €15/month). SMEs have four plans: Basic (€14.50/month), Standard (€29.50/month), Advanced (€49.50/month) and Premium (€99.50/month). These are the prices that operate during the first three months and after the two free weeks.
Advantages
It is incredibly easy to use and completely intuitive: its learning curve is very short and its graphics are friendly and very visual.
It has a high degree of customization.
Its cloud system allows you to access all the information at any time and from any device (tablet, mobile phone, computer…).
It integrates perfectly with the main payment gateways and with e-commerce (PrestaShop, Shopify, etc.).
Disadvantages
Its CRM is perfect for small and medium-sized businesses, but is less suitable for large corporations that manage very extensive client portfolios.
If you already have an ERP, which is Holded's true asset, it doesn't pay off: this is a complete package that includes many more functionalities than just the customer management software.
Demystifying CRM: Unveiling the Essence of Customer Management Software
In the realm of modern business, the term CRM often dances on the lips of industry leaders and entrepreneurs alike. But what exactly is CRM? Allow me to illuminate this concept, clarifying its significance and varied facets.
Deciphering CRM – A Prelude
CRM, an abbreviation for Customer Relationship Management, stands as a testament to the art of nurturing customer relationships. At its core, CRM encompasses a suite of tools designed to orchestrate and oversee every facet of commercial transactions with clients, encompassing marketing, sales management, after-sales support, and customer service.
The Genesis of CRM
The inception of CRM can be traced back to the nineties, an era when the Internet was still in its infancy. The need to cultivate strong client interactions prompted the birth of CRM software. However, constructing databases and their integration into business operations incurred substantial time and financial expenditures during this period.
The early 2000s witnessed the emergence of the first-generation customer management software, albeit rudimentary and far from user-friendly. Implementing these systems remained labor-intensive and financially taxing. Nevertheless, the imperative to maintain personalized client connections continued to propel the CRM evolution.
The Digital Evolution
With the digitization of databases and the advent of cloud computing, CRMs underwent a remarkable transformation. Today, these systems are interconnected, housing comprehensive client data that is easily accessible and user-friendly. In this digital age, they are not just an asset but often a business necessity.
Categories of CRM software
Not all CRMs are cut from the same cloth; they cater to diverse needs. Let's delve into the three primary categories of customer management software:
Operational CRM: Operational CRM streamlines business processes by automating tasks, aggregating pending projects, customer information, and lead data in one central hub. It's particularly adept at enhancing sales and customer service efficiency, making it an excellent choice for businesses such as law firms and real estate agencies.
Analytical CRM: As its name suggests, analytical CRM compiles and analyzes information from various sources, both current and potential customers. This data serves as the foundation for personalized marketing strategies and fostering customer loyalty, making it a crucial tool for e-commerce enterprises.
Collaborative CRM: Collaborative CRM operates at an interdepartmental level, fostering information exchange between different company divisions based on customer interactions. It enables the development of cohesive action plans and is especially valuable for sales teams within a company.
The Advantages of CRM Adoption
The adoption of customer management software bestows several key advantages upon businesses:
Enhanced Client Relationships: CRM technology allows businesses to restore the personalized touch that technology had once eroded.
Increased Customer Loyalty: Strengthened relationships lead to greater customer loyalty.
Accelerated Response Times: Automation eliminates the need for manual follow-ups, ensuring rapid responses to customer inquiries.
Boosted Sales Opportunities: Transaction data aids in refining sales strategies, leading to potential revenue growth.
Heightened Productivity: Freed from routine tasks, employees can focus on more creative endeavors.
Improved Sales Tracking: Visualization of the sales pipeline facilitates timely product or service recommendations.
Effective Analytics: Enhanced data leads to more precise decision-making and sales forecasts.
Selecting the Right CRM for Your Business
When choosing the ideal customer management software, consider these pivotal factors:
Price: As your business expands, a free CRM may no longer suffice. Evaluate your budget and the features you require. Determine whether a comprehensive CRM or a simpler one with additional tools like billing, accounting, and project management aligns with your needs.
Integration: Seamless integration with other tools and platforms, such as payment gateways, social networks, and the Google ecosystem, enhances your CRM's automation capabilities, an indispensable feature.
User-Friendliness: Ensure that your team can comfortably navigate and utilize the CRM. Trial periods and adaptability assessments are wise investments before committing resources.
Customization: A valuable CRM should be adaptable, accommodating your specific needs rather than the other way around.
Customer Support: Technical support is essential for CRM users. Opt for a CRM provider with robust support options and comprehensive user-friendly tutorials.
In the ever-evolving landscape of business, CRM remains an indispensable tool, a beacon guiding companies towards stronger relationships, streamlined operations, and sustainable growth. As you embark on your CRM journey, remember that the right choice can transform your business, bringing it closer to your customers and their evolving needs.
What is the difference between a CRM and an ERP?
A CRM (Customer Relationship Management) system is often referred to as a "front-office" system, operating between the company and its clients. While it does have some internal functions, its primary focus is on sales and marketing, helping businesses manage customer interactions. On the other hand, an ERP (Enterprise Resource Planning) system is known as a "back-office" solution, concentrating on internal company functions like accounting, production, logistics, and more.
CRM stands for "Customer Relationship Management," emphasizing its role in managing customer relationships, while ERP stands for "Enterprise Resource Planning," reflecting its focus on overall resource management within a company. Given their close connection, it's beneficial for businesses to integrate both CRM vs. ERP functionalities. Some software, like Holded, offers ERP programs that include CRM features.
Frequent questions
Can Excel be used to create a CRM software?
Yes, Excel can be used to create a basic CRM system, but there are limitations to consider. Excel is primarily designed for spreadsheets, so it may struggle to perform certain CRM functions. Transforming Excel into a CRM typically requires advanced Excel expertise, and it can be a tedious process to manually enter data. Automation, a key advantage of dedicated CRM software, is limited in Excel, leading to potential errors in data entry and management.
Which departments are most likely to use CRM software?
In most cases, the marketing, sales, and customer service departments are the primary users of customer management software, as they directly interact with clients and prospects. However, as digitalization and automation become crucial throughout a company, other departments can also benefit. Consider implementing accounting and billing software or, better yet, an ERP system that encompasses the needs of all company departments.
How can one make the most of CRM functions?
The straightforward answer is by actively using the CRM software. However, there are deeper considerations. Recognize that digitalization is vital for increasing sales, but not everyone has the same level of tech proficiency. To maximize CRM functionality:
Choose User-Friendly Software: Opt for CRM software that is easy to learn and use, ensuring that even those less tech-savvy can utilize it effectively.
Invest in Training: Provide training to your team to ensure they understand how to use the CRM to its full potential.
Customize to Your Needs: Tailor the CRM software to your specific business requirements, aligning it with your processes and goals.
Stay Informed: Keep up with the latest CRM software features and updates to make the most of the software.
Maintain Data Quality: Ensure accurate and up-to-date customer data within the CRM for optimal effectiveness.
In summary, making the most of CRM software functions involves selecting the right software, offering training, customization, staying updated, and prioritizing data quality to align your CRM software with your business goals effectively.